Refined Yunzhi

Why is immune health important?
People are born with an immune system. The immune system protects the body from viruses, bacteria, and harmful fungi. 99% of all human diseases are related to the immune system. In 2020, the immune health product Ganoderma had its interest highest ever. This coincides with Covid-19 and the importance of health, this coincides with Covid-19 and the importance of health, immune function, and stress.
Consumers want natural, plant-based, and organic ingredients to aid their immune system.
It is important to note that supplements are not a substitute for medications. The best way to boost your immunity is to live a healthy lifestyle combined with immune supplements, such as Yunzhi essence.
Of course, if you have any questions, please consult your family doctor or health care professional first to ensure that an immune supplement such as refined Yunzhi essence is right for you.

In order to pursue a better quality of life and have a healthy and energetic body, many people choose health care supplements. Health care has also become the new fashion. Many people can't live without health care products every day, and Yunzhi extract is popular among health care professionals as it represents their leading product in health care products in terms of its role and efficacy. Yunzhi essence not only plays a great role in health care, but it's also proven in clinical trials.


So, why choose BF SUMA refined Yunzhi essence among the wide variety of immune supplements?
BF SUMA is a brand from the United States that has developed different immune supplements with years of experience in the healthcare industry. Its immune supplements portfolio is available from entry level to premium selected to meet the requirements of different customers.
In particular, Yunzhi essence is suitable for Healthy people who want to enhance their immune system and reduce illness.
For thousands of years, the health benefits of Yunzhi have been documented in various Chinese Medical Literature.
Yunzhi essence contains PSP (polysaccharide-peptide). PSP is a fungus which has been shown to have anti-cancerous properties.
Yunzhi essence is a precious gift infused with nature. Yunzhi essence uses innovative technology to achieve maximum efficacy.
Rare raw materials and innovative technology ensure that every consumer can enjoy a premium immune product.
For all these reasons, Yunzhi essence benefits everyone and is one of the most effective health supplements in Africa.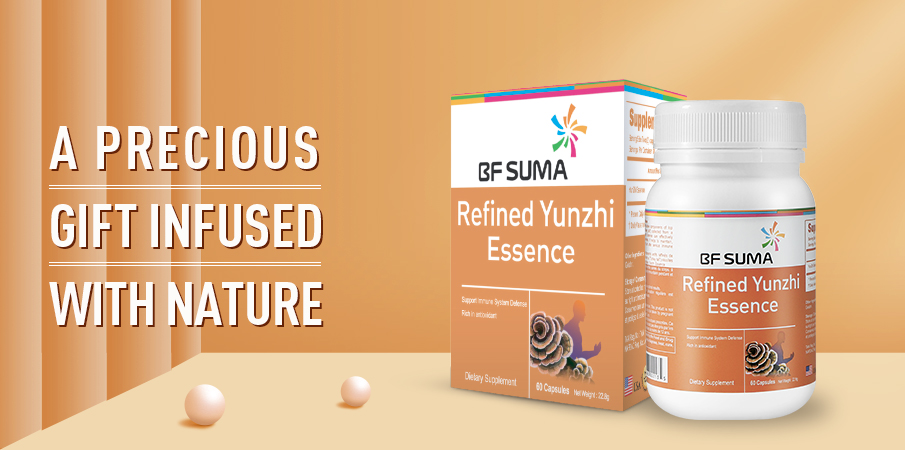 Q: Who is BF SUMA refined Yunzhi essence for?
Refined Yunzhi essence is suitable for adults and the elderly.
It strengthens the immune system, reduces the side effects of chemotherapy and enhances the appetite.
For normal people who strengthen immunity, take 2 Yunzhi essence capsules twice daily; For cancer patients during chemotherapy treatment, take 4 Yunzhi essence capsules twice daily (consult doctor first);
Yunzhi essence is also suitable for people recovering from major surgery.
In general, refined Yunzhi essence benefits all those looking for a natural immunity booster.

Q: How should I choose an immune health supplement?
First, try to choose an immune health supplement from a major brand.
BF Suma uses the most advanced technology on the market and, as with all BF Suma products, is manufactured to the highest standards in a cGMP facility in Los Angeles, USA. It ensures that consumers can choose high quality Yunzhi essence capsules.
Secondly, if you have just undergone major surgery or are undergoing chemotherapy, you can also let your doctor determine if Yunzhi essence capsules are right for you based on your health condition.


What are the main ingredients of BF Suma Yunzhi essence capsules?
Yunzhi essence capsules are mainly composed of a precious traditional Chinese medicine, Yunzhi.
As early as 2,000 years ago, "Zhi" was regarded as a holy medicine in the earliest herbal encyclopedia, The Divine Husbandman's Herbal Foundation Canon.
According to Compendium of Materia Medica written by Li Shizhen of the Ming Dynasty, "Zhi" is used to strengthen the body, prolong life and restore youth.
In addition, Yunzhi essence contains PSP (polysaccharide peptide). PSP has been declared as a fungal anti-cancer substance. PSP stimulates immune cell proliferation, reduces the toxic side effects of chemotherapy, and decreases susceptibility to infection.
The active ingredients of Yunzhi have been proven by the US National Cancer Research Center, ensuring the effectiveness of Yunzhi essence capsules.


Tell me about the health benefits of refined Yunzhi essence
The main benefit of taking Yunzhi essence is to strengthen the immune system to protect yourself from infectious diseases such as colds and flu.
Yunzhi essence strengthen the immune system by stimulating the response of the immune system so that it works faster. It can neutralize foreign invaders and has even been shown to protect a compromised immune system. Thus, Yunzhi essence capsules can reduce chemotherapy side effects like susceptibility to infection, white blood cell decreases, mouth ulcers, Hair loss and Nausea.
Finally, Yunzhi essence capsules can also enhance appetite. Mentally and physically diseases may reduce the appetite. Yunzhi helps the body maintain health and enhance appetite.


Why the slogan of refined Yunzhi essence is "A PRECIOUS GIFT INFUSED WITH NATURE"
With Deforestation, Vegetation deterioration, Soil erosion, wild resources are becoming less and less available. BF Suma refined Yunzhi essence is 100% natural Yunzhi grown in the Changbai Mountains.
The raw material for Yunzhi essence must be grown in the wild for at least 24 months. Yunzhi only grows under specific conditions of temperature, humidity and light.