NMN Coffee
For many people with high-pressure jobs, drinking coffee at work has become a lifelong habit, and many people can't functionally work without it. Coffee is a lifesaver for many people who stay up late. Although coffee can help people refresh themselves, sometimes for people who are very busy at work, coffee is not enough. A cup of NMN coffee or reishi coffee may be the extra boost they need to keep themselves productive during these times.
1. What is NMN coffee?
As the name implies, NMN coffee is the addition of the anti-aging NMN ingredient to coffee.
NMN stands for nicotinamide mononucleotide, a molecule inherent to the human body and present in some common fruits and vegetables.
NMN has essential regulatory functions for human health and can be produced naturally by cells. It is also necessary for the synthesis of NAD+. NAD+ is involved in nearly more than 100 enzymatic activities in the human body, so it can be said that NAD+ is an indispensable part of the human body. Modern science research has shown that moderate intake of NMN has a significant effect on boosting NAD+ stores that decline with age, which leads to anti-aging and improved energy.
Therefore, the intake of NMN coffee can enable you to do your work with energy while also providing anti-aging effectiveness.
2. Who is BF SUMA NMN coffee for?
Firstly, NMN coffee is suitable for working people. NMN can directly be absorbed into your body and through NAD+ activates your body's genes for rapid DNA repair while simultaneously increasing your energy levels.
NMN provides you with a renewed sense of enthusiasm and energy for increased job productivity and efficiency.
NMN coffee benefits those who want to become healthier with a familiar drink we all love – coffee - you can now get added energizing and anti-aging benefits!
Coffee lovers will enjoy BF SUMA NMN coffee. The product is suitable for coffee lovers who can enjoy a premium, delicious coffee experience and now they can achieve extra anti-aging effects without any extra effort.
3. What is reishi coffee?
Reishi, also known as Ganoderma lucidum, is a valuable medicinal mushroom used in Chinese herbal medicine for thousands of years.
The type of coffee bean used in reishi coffee is Colombian coffee, which is often described as having a silky smooth flavor.
reishi coffee is aromatic but not overpowering, and it can deeply condition the body and relieve fatigue. One of reishi coffee benefits is boosting your immunity simply by drinking a cup of coffee.
4. What are reishi coffee benefits?
There are two main benefits of reishi coffee. One is immune enhancement and the other is anti-aging.
reishi coffee increases the activity and number of immune cells in the body and enhances the body's immune functions.
One of the particular compounds found in reishi is called polysaccharides. These polysaccharides increase the activity of a powerful antioxidant called superoxide dismutase, which helps to remove oxidative free radicals from the body and achieve the effect of slowing down aging.
Also reishi coffee has direct benefits on the liver. The other reishi coffee benefits can improve sleep quality and eliminate fatigue.
In general, reishi coffee benefits all those looking for a healthy coffee drink with increased powers of boosting immunity and anti-aging.
The difference between reishi coffee and regular coffee
reishi coffee is equivalent to an upgraded version of regular coffee. Regular coffee can refresh and prevent gallstones. However, reishi coffee is a drink with specialized functions that add to health and wellness. reishi coffee benefits people who have to stay up late but still looking for health care. Regular coffee cannot give you the same amount of energy as reishi coffee and does not provide extra immunity and anti-aging benefits.
reishi coffee benefits all those looking for a healthy coffee drink.
The Effect Of Coffee
Refresh, Prevent Gallstones
After ten years of research, a professor at the University of Bristol in the United Kingdom found increased alertness and focus after drinking only one cup of coffee. Coffee can stay in the body for 3 to 5 hours and has a long-term revitalizing effect. The caffeine in coffee stimulates gallbladder contraction and reduces the cholesterol in the bile that can form gallstones.
Antioxidant, Protect Cardiovascular
At the food chemistry symposium of the annual meeting of the National Chemical Society, a new presentation of scientific evidence was given that showed that coffee contains powerful antioxidants that protect the heart and blood vessels. These polyphenols identified in coffee are also known as flavonoids, with super antioxidant capacity to protect the cardiovascular system.
So, why choose BF SUMA NMN coffee and reishi coffee among the wide variety of health drinks?
BF SUMA is a brand from the United States that has developed different health products with years of experience in the health industry.
Because the market is becoming more and more enthusiastic about the development of different dosage forms, BF SUMA can now provide cutting-edge healthy coffee products as an alternative to capsules and tablets. BF SUMA now brings the highly effective NMN coffee and reishi coffee to Africa, reaching a broader customer base and preferences.
Our NMN coffee is the entry-level product in the NMN series, allowing every office worker to be rejuvenated with each drop of coffee.
As an introduction to the immune series, reishi coffee is for those who want to strengthen their immunity naturally. reishi coffee benefits your body just by a cup of coffee.
Other benefits from NMN coffee is quality. It comes from medium roasted Arabica beans, which create a nutritious and delicious coffee. NMN coffee and reishi coffee are produced in the USA under a cGMP facility owned by BF SUMA and shipped directly to Africa.
BF Suma's research team has developed a unique NMN that is resistant to high temperatures and ensures that the quality of coffee received has all its essential components and aromas intact after long-distance transport and storage.
For all these reasons, reishi coffee benefits everyone and is one of the most attractive coffee supplements. NMN coffee allows every office worker to be rejuvenated with each drop of coffee.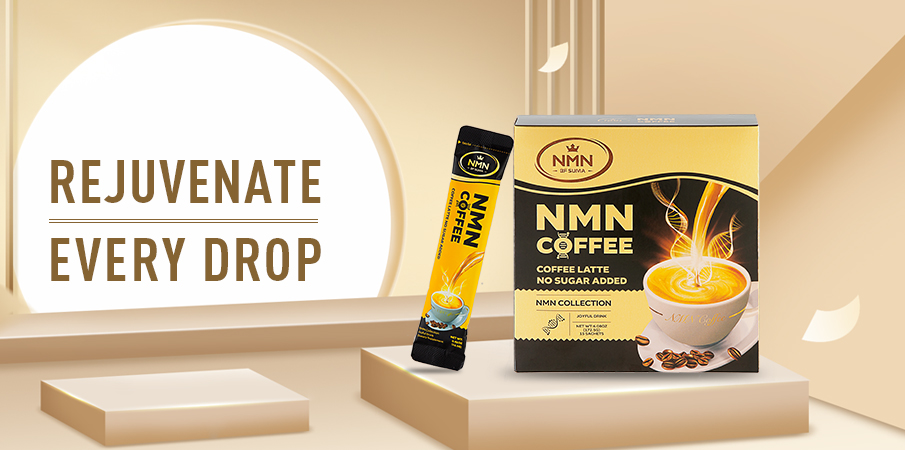 Q: What is the origin of NMN Coffee coffee beans?
A: NMN Coffee is made from a selection of high quality Arabica coffee beans. It is famous for its alluring, aromatic smell, and its taste of multiple cocoa flavors enhanced by fruity notes. Guatemala in Central America is the origin of this famous coffee bean, where the natural environment is excellent for producing quality coffee beans, with an average annual temperature of about 20 degrees Celsius, an annual rainfall of about 2,000mm, planted at an altitude of 1,500-1,800 meters, all grown with only organic fertilizers. Therefore, the taste of this coffee bean is perfectly preserved, bringing a strong and unforgettable taste experience.
Q: Does the brewing of NMN Coffee at high temperature have any effect on the stability of NMN?
A: Conventional NMN is unstable at high temperatures and will easily degrade. Utilizing the characteristics of NMN, BF Suma's research team developed a unique NMN that is resistant to high temperature brewing and can be transported at room temperature for the perfect presentation of NMN Coffee, which is tailor-made for this product. Therefore, NMN Coffee can be brewed in the same way as regular coffee, just add hot water and stir.
Q: NMN Coffee uses no sugar added, will it be too bitter?
A: BF SUMA uses the finest Arabica coffee beans, which are medium roasted to fully stimulate the potential aroma of the coffee beans themselves, avoiding the use of sweetness to mask the richness of its own aroma, which can leave the sweet aroma of coffee for a long time. No sugar is added to promote as a healthier drinking habit, which is very friendly to people with blood sugar concerns and healthy body management.